2020 was a year that would not be easily forgotten in the hearts and mind of all, due to the global pandemic that rocked the world and held it hostage for 6months and more.
Nonetheless 2020 also proved to be a year where virtual meetings were encouraged. So today we are going to be looking at applications and software that has come to stay.
There was a time when distance learning and virtual meeting were used only by top officials and management but as it is now due to the pandemic Virtual meetings, Virtual seminars are now being encouraged and are not ready to go anytime soon and the beauty is its free for all.
So today we are going to be talking about applications and software that can be used to achieve Distance learning and Virtual class Zoom and Google Duo/Meet.
The video software called zoom was re- introduced when the lockdown started and within the first 4 months of its introduction during the lockdown skyrocketed the stocks and shares of Zoom. Companies, business owners and even educational institutions adopted the zoom software.
 By February 2020, Zoom had gained 2.22 million users in 2020 — more users than it amassed in the entirety of 2019.On one day in March 2020, the Zoom app was downloaded 2.13 million times. Daily average users rose from about 10 million in December 2019 to more than 300 million daily meeting participants in April 2020 This led to an increase in the company's stock price in early 2020, despite a general stock market downturn. Zoom stock went from less than $70 per share in January 2020 to $150 per share by the end of March. By June 2020, the company was valued at over $67 billion.
The Zoom software has a free and a paid version.
The free version can Host up to 100 participants. Group meetings lasts for up to 40 minutes before being ejected and cut off. Unlimited 1-on-1 meeting. You can also share files on Zoom in case the need arise.
After gaining 635% in 2020, Zoom became the most well-known video conferencing app used during the COVID-19 pandemic. In October 2020, Zoom's market cap crossed $140 billion, valuing the company more than 130 year old ExxonMobil.
Google Duo/Meet
Google Duo lets users make video calls in high definition. It is optimized for low-bandwidth networks. End-to-end encryption is enabled by default. Duo is based on phone numbers, allowing users to call someone from their contact list. The app automatically switches between Wi-Fi and cellular networks. A "Knock Knock" feature lets users see a live preview of the caller before answering to avoid any interruption or unwanted guests.
Google DUO has been replaced by Google Meet.
Google Meet uses proprietary protocols for video, audio and data transcoding. However, Google has partnered with the company Pexip to provide interoperability between Google Meet and SIP/H.323-based conferencing equipment and software.
In March 2020, Google rolled out Meet to personal (free) Google accounts.
Free Meet calls can only have a single host and up to 100 participants, compared to the 250-caller limit for Google Workspace users and the 25-participant limit for Hangouts. Unlike business calls with Meet, consumer calls are not recorded and stored, and Google states that consumer data from Meet will not be used for advertisement targeting. While call data is reportedly not being used for advertising purposes, based on an analysis of Meet's privacy policy, Google reserves the right to collect data on call duration, who is participating, and participants' IP addresses which has been a major source of concerns for people using it.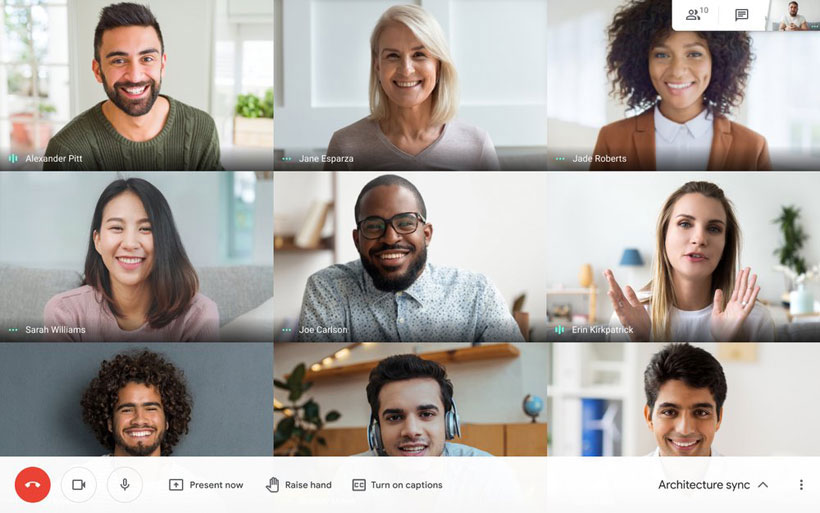 Users need a Google account to initiate calls and like Google Workspace users, anyone with a Google account is able to start a Meet call from within Gmail.
After March 2021, free meetings will be limited to 60 minutes each.
Features of Google Meet include:
Two-way and multi-way audio and video calls with a resolution up to 720p
An accompanying chat
Call encryption between all users
Noise cancelling audio filter
Low-light mode for video
Ability to join meetings through a web browser or through Android or iOS apps
Integration with Google Calendar and Google Contacts for one-click meeting calls
Screen-sharing to present documents, spreadsheets, presentations, or (if using a browser) other browser tabs.
Ability to call into meetings using a dial-in number in the US
The Hosts being able to deny entry and remove users during a call